Return to Headlines
Parkview students become community leaders at Parkview Leadership School

There's a lot to learn when you're a freshman in high school.
What sport to try out for, what classes to take, what extracurricular activities to sign up for and what friends you'll spend the next four years with – it can be overwhelming. But one class at Parkview High School is a requirement for all freshmen: Leadership 101.
"Being a good leader is fundamental to success in life for everyone," said Callie Sitton, Leadership School and A+ coordinator at Parkview. "That's why we make it a requirement for every student to spend their freshman year learning skills such as recognizing abilities, how to collaborate and serving selflessly."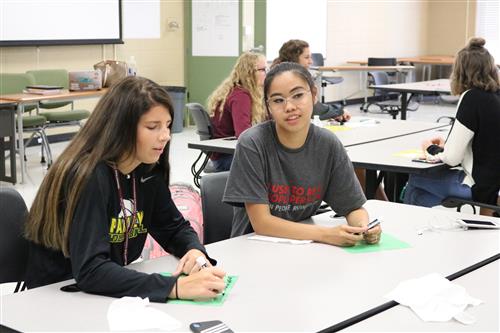 Parkview Leadership School is a campuswide effort to equip Parkview students with the soft and hard skills they need to be successful in learning and in life. The four-year program's mission is to empower leaders who impact communities, says Sarah Tate, assistant leadership coordinator.
"I want my students to be confident," she says. "I want them to be able to take initiative and stick with it, while learning a growth mindset. We want our students to always be improving and thinking of new ways to solve problems within their own communities."
In the Leadership School, there are four classes, one for each year of high school: 101, 201, 301 and 401. All PHS freshmen take Leadership 101, where they complete team-building exercises, critique motivational speeches, discuss long-term personal goals and develop public speaking skills. Students work through 10 Leadership Skills that drive success in whatever is ahead for all Parkview students -- whether it be work, college, military service or family life after high school.
PHS Sophomore Essence Moore loved 101 when she was a freshman.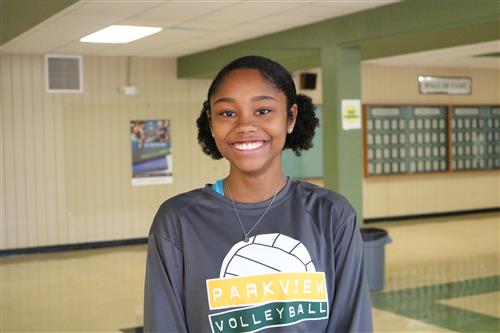 "It helped me be a better leader, for sure," said Essence. "It made me want to be in leadership and help me be a better leader on my sports teams. Now, I know how to talk to the girls on my volleyball team if they're having a problem, and I know how my actions matter. But 201 is probably more fun."
After freshman year, sophomores can choose to continue in Leadership School and take Leadership 201. The class focuses on hands-on projects, where students learn more about their community and how to take action. More than 150 sophomores are enrolled in 201, says Sitton.
"This year, I'm really learning how to work with people," says Moore. "The projects are fun, and I'm making more friends. My grades are better because I'm better at organizing my time, too."
As the program continues, juniors then take a deep dive into project management in 301. The semester long class requires students to develop, design and deploy a mini capstone service project that makes an impact on the community. Student projects in Leadership 301 range from fundraisers to community clean-up events, says Tate.
"It's a class where students really get to start pursuing things they're interested in," says Tate. "They get to choose their project and get to see it from start to finish. Along the way, students get to see the impact they're making, while also collaborating with each other as they develop their projects. They help each other be successful."
In 301, approximately 50 juniors strengthen relationships with their peers who are focused on community impact and activism. Those who find a passion for supporting and serving others then continue onto Leadership 401 as seniors.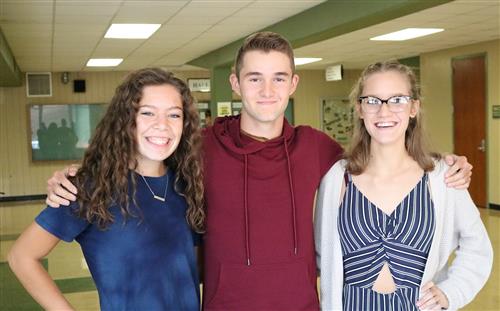 This year, 23 seniors are completing their Capstone projects. The yearlong class focuses on one massive culminating project that seeks to make a positive impact on the community or the world, says Sitton.
"These projects are as big as the students can imagine," says Sitton. "Last year, we had a senior who made a night of remembrance for those who had lost someone. She raised more than $2,000 for Lost and Found. Another senior made a documentary about bullying. These projects are substantial, the kind of projects that stand out on college and scholarship applications."
However for 23 busy seniors, selecting a class is a strategic choice. Seniors AJ Stratton, Kylie Worley and Addie Hudson all loved completing their mini capstones so much last year that they decided to continue on to 401.
"It's been a privilege to take this class, because I had a lot of opportunities to take a lot of different classes, so I really saw 401 as something that was going to benefit me," said Stratton.
Kylie and Addie nod in agreement.
"In three years, I've seen how Leadership School puts students in a high-capacity, low-maintenance mindset, and it gives students the ability to do their own thing with something they're passionate about. And when you make a student passionate about something, it's more important and they usually do better. And that's something I wanted to do for myself and help others to see, too."
Stratton is working on his Capstone project: a charity ride for the Greenways. Kylie hopes to win one of the two Parkview Leadership School's $1,000 scholarships with her project.
"The big thing that drew me to the Leadership School was the scholarship, because I need money to go to college," said Kylie. "So last year, I thought of a project to help those who are struggling with mental illness, like depression and anxiety. I've been talking to my teachers and counselors about how we can push out and make a difference in the community. But the scholarship would be great, too."
Parkview Leadership School is one of seven endorsed choice programs at Springfield Public Schools. For more information about unique learning opportunities driven by passion, inquiry and community connections for Springfield students, visit www.sps.org/choice