Return to Headlines
SPS At Home Heroes: Adaptive Physical Education Teachers
When COVID-19 happened, the real-time, small group, in-person approach (seen below) to adaptive PE at SPS had to change and fast. That's why this team of five teachers are #SPSAtHome Heroes. MORE: https://t.co/H1pS17hjYE pic.twitter.com/P68uM99IFA

— Springfield Public Schools (@officialSPS) May 13, 2020
During the regular school year, five adaptive physical education teachers work together to service more than 220 special education students at more than 30 schools. It's a dynamic, ever-changing work that requires intense customization of PE lessons, coordinating activities, equipment and pace with the skill level of participating students.
Adaptive physical education classes can be challenging to conduct, but the impact of twice-a-week PE lessons can enhance skills and change lives for students. It's an essential part of special education students' learning and is required by the Missouri Department of Elementary and Secondary Education.
Then COVID-19 happened -- the real-time, small group, in-person approach to adaptive PE at SPS had to change and fast.
But the Adaptive PE team was ready to make it work, said Chris Vandergrift, a veteran adaptive PE teacher for SPS.
"We started talking about creating our own Canvas course," said Vandergrift. "On our team, we have some knowledge of creating Canvas courses -- I teach PE online with Launch as does Leslie Hanchey. So as a team, we decided it would be a better avenue to streamline our lessons. We got to building, as a group, the basics of a course for students to login."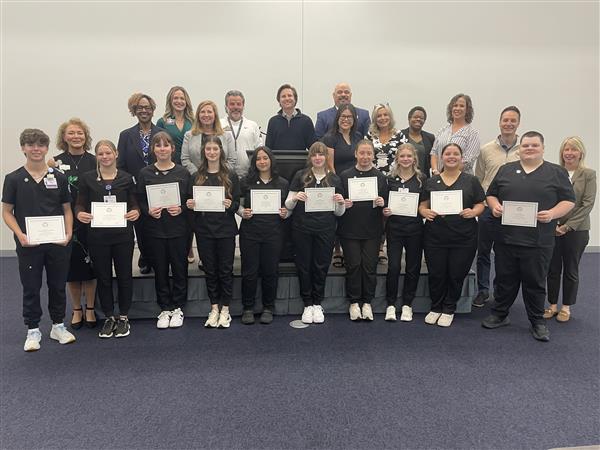 Built from the regular Physical Education curriculum, adaptive PE teachers have developed three or four lessons a week since the launch of SPS At Home. More than 300 students have access to the Adaptive PE Canvas course.
Whereas most teachers create one virtual lesson for all their students in a class, adaptive PE requires intense differentiation of content. Each lesson has three levels of skill: beginner, intermediate and advanced. Parents or students can then choose, based on the lesson's activity, which activity to complete or video to emulate, says Leslie Hanchey, adaptive PE teacher.
"In a regular PE classroom, you'd have one fitness lesson and all your kids can do it," said Hanchey. "But for us, we have to break it down by class and by ability level, while also making sure each lesson is personalized for our students. Within that fitness lesson, we have 10 different versions of what they can do."
All SPS At Home Adaptive Physical Education lessons include a stretch, a warm up and a list of potential versions of the day's activity. Some lessons include instructional videos created by adaptive PE teacher Lindsay Phifer. In the videos, the intended skill or activity is modeled by Phifer's three teenage children.
In total, more than 100 of virtual Adaptive PE lessons have been created, and more than 100 students are actively completing lessons each week. That's due to the heroic work of five adaptive PE educators who will do whatever it takes.
"I do this work because our students need to know they still matter to us, even if we can't be physically present with them -- for them to know we are still there for them and they still matter to us," said Hanchey. "A lot of our kids are nonverbal and the only communication they get is through touch or sign. To know that we're still there for them, that they still matter and I still want them to be the best they can physically be is the most important thing."