Return to Headlines
GHS theatre students perform for musical's original lyricist and composer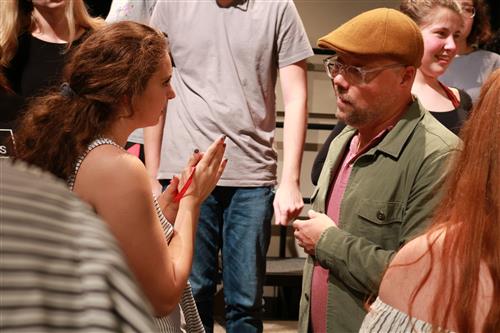 Glendale High School is the first high school in Missouri to perform "Tuck Everlasting: The Musical" based on the book written in 1975 by Natalie Babbitt. Glendale received special permission to perform the Broadway musical from the original lyricist and composer, Nathan Tysen and his music partner, Chris Miller.
Tysen conducted a true theatre workshop with Glendale High School theatre students on Monday, Oct. 8. The workshop allowed students to perform their character's songs from the musical and receive direction from Tysen. He also gave insight to the character and the creation of the songs. Tysen read the book in fifth grade and said, "It was the first book that made me want to read other books."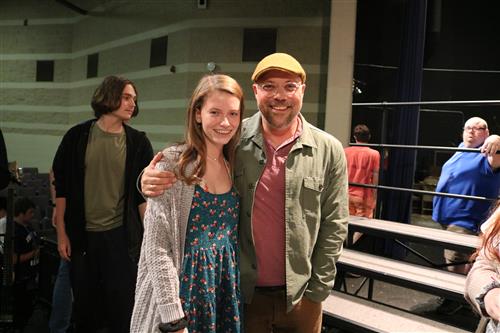 "The workshop helped me to justify what direction we had been taking with the musical," said Glendale theatre teacher Lesa Bettencourt. "It helped to clarify for both myself and the cast what story we are telling and why we are telling this story. Ultimately, we want the audience to understand and know why it is important for them to know this story. However, Mr. Tysen did stress that it was important for us to make the show our own and use our own perspective on how we interpret the story."
The experience was an extraordinary opportunity for her students, allowing them to learn from someone who knows the theatre business inside and out, said Bettencourt.
"I loved all of the stories that he relayed about the process of bringing a show to life and how to get them to Broadway," she said. "I also truly appreciated him taking the time to work one-on-one with the students for perspective into their own character development. It is very rare to get this kind of opportunity to work with someone who helped to create a show and that information alone is invaluable."
Glendale theatre students will perform the musical on Nov. 15 to 17 in the Glendale High School auditorium, with show times at 7 p.m. with an additional Saturday performance at 2 p.m. General admission tickets are $8 for students and senior adults and $10 for adults.