Return to Headlines
Delaware Elementary students explore careers with Career Day expo
May 23, 2023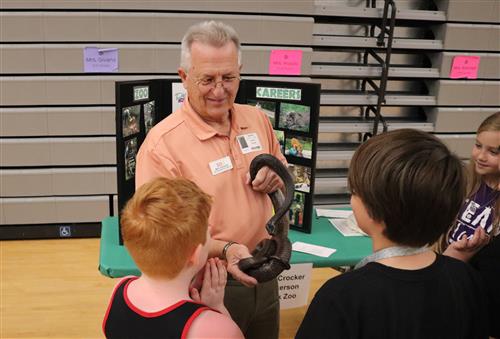 Dickerson Park Zoo director Mike Crocker opened a cooler and untied a sack. Then, Delaware Elementary School fourth-graders gasped.
"This is Raz, a black snake," said Crocker. "He's super friendly and he doesn't bother me. I've worked at the Zoo a long time, and there are lots of jobs at the Zoo, including taking care of snakes like Raz and Kellogg. Keeping our animals healthy is one career at the Dickerson Park Zoo."
Crocker was one of a dozen professionals who participated in Delaware Elementary School Career Day. The schoolwide experience for students grades 4-5 was the culminating event of college and career exploration curriculum, said Julie James, Delaware counselor.
"We've talked all year about careers, but meeting someone who is a train engineer, asking a dentist questions, interacting with a police officer, these experiences students remember," said James. "We were so excited to bring so many community partners to our students, so they could have this experience."
Real estate agents from Keller Williams, an art museum educator, a locomotive engineer and an information security engineer shared their journey to their careers, including required training, education and why they chose their field. Louise Jackson, a children's book author, shared her insights on how to become a professional writer via Zoom.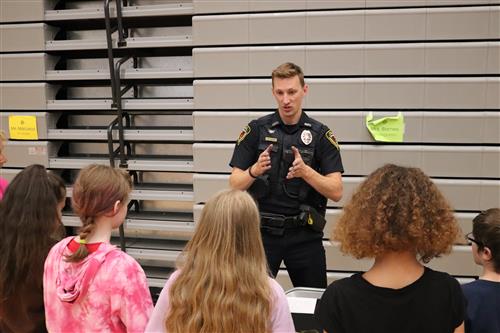 "You have to read all kinds of books to be a good writer," she said. "Writing is a career, but it is also a craft. You've got practice and practice to become an excellent writer."
Students were encouraged to make connections, ask questions and begin to make plans for their futures. Exploring the possibilities is essential to help students set and achieve big goals, said Stephanie Young, Delaware principal.
"When students begin dreaming, then they can begin doing," said Young. "A student might meet a dentist today and 20 years from now be working in the field. But careers start somewhere. For our students, this could be their beginning."