Return to Headlines
DESE issues first report under new School Improvement Plan
March 7, 2023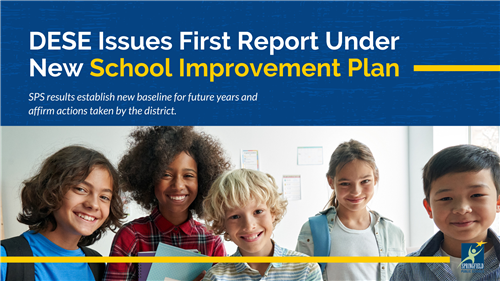 The Department of Elementary and Secondary Education (DESE) released the first reports from the latest version of its Missouri School Improvement Plan, known as MSIP 6, on Tuesday. MSIP 6 includes a three-year implementation period. For the 2021-2022 school year, Springfield Public Schools earned 132.7 points out of a possible 180: 73.7%.
Annual Performance Reports (APRs) are provided for districts statewide and reflect data collected as a new baseline during the 2021-2022 school year. Results focus on a district's academic performance and continuous improvement efforts. This includes MAP testing (Missouri Assessment Program) conducted during the spring of 2022, graduation rates, detailed improvement plans, climate and culture surveys, and other required documentation.
"SPS is committed to the well-being of each student by providing high-quality academic opportunities," said Dr. Grenita Lathan, superintendent. "Our APR results prove that Team SPS is focused on continuous improvement, where we earned 92.3% of the points possible. I am especially proud that our district received full credit in recognition of our four-year graduation rate."
Recent decisions made by SPS, and the significant steps already underway, are affirmed by the 2021-2022 APR results.
Dr. Lathan's superintendent entry plan report
, issued last year, identified key themes and actions following extensive engagement with staff, students and the community. Examples of the district's progress aligned to APR results include the following:
Implementation of Galileo, a K-12 universal screener: Galileo is administered at the beginning, middle and end of the school year. Educators are using insights gained from the assessments to tailor instruction for each student to ensure mastery of grade-level standards.
Districtwide focus on Tier 1 instructional practices: SPS is focused on ensuring that instruction is rooted in an evidence-based, scientifically researched core program that aligns with Missouri learning standards.
Realignment of preK-12 school supervision: Instead of one supervisor for up to 30 schools, additional executive directors now provide increased support and accountability, ensuring principals and teachers have the necessary coaching and resources.
Expansion of choice programming: The opening of AgAcademy, focused STEAM education at the new Jarrett Middle School, fine and performing arts experiences at Reed Academy, and expanded access to the Academy of Exploration are all examples of an increase in choice options for SPS students.
Increased support for college & career access: Implementation of Naviance, a college and career prep tool for students in grades 6-12, and the addition of college and career specialists for each high school are key to ensuring SPS graduates are success-ready. Expansion of career and technical education (CTE), including the creation of Fly SPS in partnership with OTC and Premier Flight Center, is also key to this important work.
Unanimous approval of a new five-year strategic plan: In December 2022, the Board of Education unanimously adopted a new plan that focuses on success-ready students, organizational efficiency, collaborative culture, and quality learning environments.
"It is important to note that this year's APR establishes a new baseline and it is not possible to make direct comparisons to prior reports due to new criteria and methods for measuring progress," continued Dr. Lathan. "This is one tool, administered at a specific point in time - nearly a year ago. Our internal assessments allow us to measure student achievement and progress in real-time, throughout the year. We are optimistic that the results monitored during the 2022-2023 school year indicate that our students are growing academically with support from extraordinary educators and support staff."
To learn more about the 2021-2022 APR results, visit the Missouri Department of Elementary and Secondary Education's website
here
.