Return to Headlines
College and Career Access specialists to be at each SPS high school this fall
May 19, 2022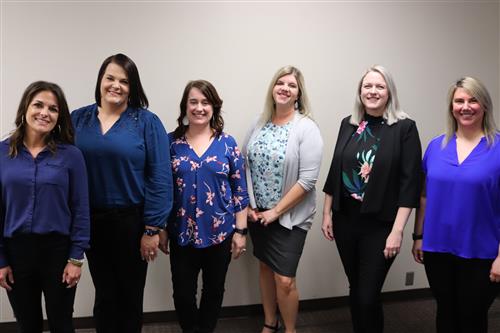 This fall, a new face will be at every SPS high school – a College and Career Access Specialist.
Four former teachers and a former counselor will be on secondary campuses across Springfield, helping students, teachers and counselors utilize a new tool: Naviance.
"Naviance is a tool to help students learn about themselves and their strengths," said Amy Patton, Coordinator of College and Career Access. "This easy-to-use software is a personalized, digital approach to help kids get ready for life and explore their options after high school, in and out of the classroom."
Michelle Rabinowitz, a current seventh-grade counselor at Cherokee Middle School, will be serving the Kickapoo feeder pattern as its College and Career Access Specialist. She's excited to support teachers, counselors and sixth- and ninth-grade students explore their possibilities using Naviance in 2022-2023.
"As the largest district in Missouri, I'm so excited that we will be able to offer an intuitive and personalized access to important information that is equitable across all high schools," said Rabinowitz. "As a current school counselor, I am passionate about helping students have access to all the information they need to reach their dreams, and I think this is a great move for SPS."
As an Entrepreneurship GO CAPS teacher, Sarah Clayton has seen up-close how stressful planning post-secondary life can be for high school students. Next year, she'll help freshmen and their educators utilize Naviance's expansive library of resources. With a Resume Builder Tool, career exploration modules, accessible videos of in-depth career overviews and more, she knows that Naviance will help students prepare for life after high school and beyond.
But a tool combined with an educator is the real game-changer, she says.
"With Naviance and the College and Career Specialist, students will have consistent access to support and resources that will alleviate the feeling of overwhelm, anxiety and stress, and shift the focus where it needs to be: what's possible," said Clayton. "Plus, the tool provides a more complete view of each student and will help teachers and parents guide students as they determine their strengths, skills and potential post-secondary choices."
As the team leader, Amy Patton will support these five specialists as they visit and champion educators throughout their feeder patterns. Together, they'll help sixth- and ninth-grade students explore their career possibilities on Naviance and offline.
"We need our students to be ready for life because they are our community," said Patton. "Preparing our students to be successful for life after high school is so important, because their future is the future of our community."
SPS College and Career Access Specialists
Sarah Clayton, Glendale High School
Hailey Needham, Hillcrest High School
Suzzanne Harris, Central High School
Michelle Rabinowitz, Kickapoo High School
Christy Olszynski, Parkview High School
As part of Dr. Grenita Lathan's Entry Plan, Springfield Public Schools is committed to strategically expanding and integrating College and Career Readiness initiatives districtwide. Learn more at sps.org/vision