Return to Headlines
HHS Environmental Science pathways students grow experience, expertise in Watershed Natives program
March 7, 2022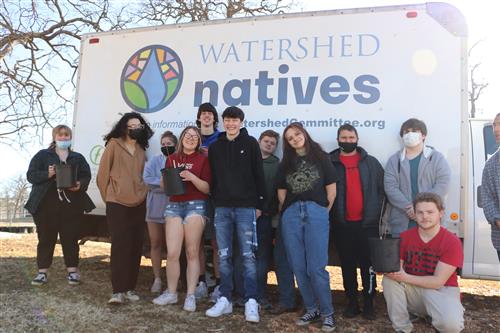 There's one thing Jenna Meyers knows for sure: she loves plants.
"I just love them so much," said the Hillcrest High School junior. "I love them. I love planting them and watering them. I think about planting all the time. Getting my hands into the dirt, watching something grow, there's really nothing better. It's just who I am."
Jenna is a member of the Environmental and Natural Resource Management pathway at Hillcrest High School, within the school's College and Career Academies. She chose her pathway based on a passion for plant science and conservation, which she explores in her Watershed Science class.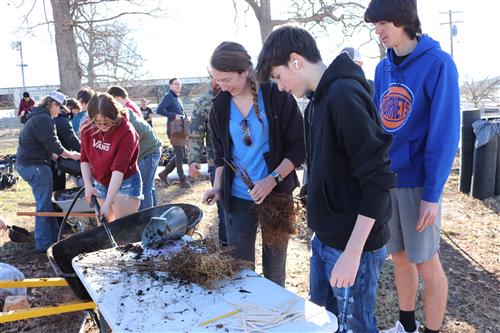 Much of the Watershed Science class curriculum and time spent learning was developed by the Watershed Committee of the Ozarks, a long-time curriculum and SPS Partner in Education. In the Agriculture class, Hillcrest students are a part of the Watershed Natives, a program of the Watershed Committee of the Ozarks.
The Watershed Natives program teaches special skills for Hillcrest students to help expand the native plant nursery, located at the Ozark Empire Fairgrounds. The effort began with true seed money, with a Collective Impact grant from the Community Foundation of the Ozarks and funding from the Darr Family Foundation.
"The long-term vision for Watershed Natives is that it's a fully sustainable program," said Mike Kromrey, Executive Director of Watershed Committee of the Ozarks. "Hillcrest students help us grow native plants that we then sell, which generate funds to purchase more supplies for the Watershed Natives program and also hire Hillcrest students to even work for the Watershed."
Within the Watershed Natives program, Watershed Science students processed seeds that was collected by students in the SPS Greener Greenspace program to be contributed to Springfield-Greene County Library Heirloom Seed Library. During these activities, students at the nursery learn how to stratify and germinate seeds, transplant, mix soil, pull sale orders, plant and prune trees.
Together at the nursery, students germinated White Crownbeard to be sold, and they helped prepare trees to be sold at a future plant sale, developing both plant science mastery and entrepreneurial skills. Both are foundational to careers in conservation, said Dr. Katie Kensinger, coordinator of college and career readiness at SPS.
"The students in the Watershed Science class aren't just learning about plants, they're preparing for a career in environmental science as part of a three-year college and career pathway," said Dr. Kensinger. "By spending so much time developing their own plant nursery, they're really gaining expertise and experience that will directly impact them in a career, while also helping to develop a workforce for conservation agencies in our region."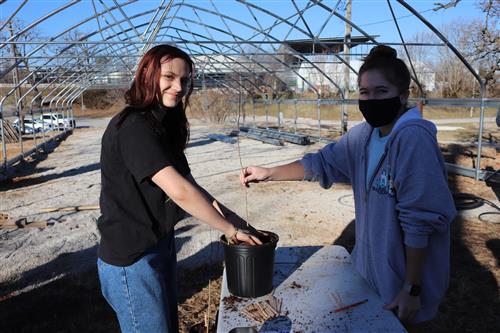 Standing next to a high tunnel greenhouse under construction, Environmental Science teacher Sharon Blauvelt watches her students pot Washington Hawthorn, Black Haw and Pawpaw trees. Her Future Farmer of America (FFA) students at Hillcrest will volunteer at the Watershed during an upcoming native plant sale, one more experience for students to grow, she says.
"I've been working at Hillcrest for a long time, and there's been a lot of work that's led to Agriculture and Environmental Sciences experiences like this for our students," said Blauvelt. "When my students spend time in a nursery, planting plants or harvesting seeds, that's when it really clicks. That's when I can see they know they really do love it."