Return to Headlines
KHS named Project Lead the Way Distinguished High School Program
.@KickapooChiefs Medical Intervention students are practicing using the micropipette to measure and distribute tiny quantities of fluid, a foundational skill in Biomedicine Project Lead the Way classes. 🧪 pic.twitter.com/mYUJHVLnoI

— Springfield Public Schools (@officialSPS) September 8, 2021
Built using popsicles, hot glue and rubber bands, the Rubberbander has one task: consistently project a small ball 15 feet.
"It was a lot of fun to build," said sophomore Katie Sell. "Melany and I call it the Rubberbander, and it's what we've been doing in Introduction to Engineering Design. There's a lot of freedom in here, to build and create. We all pay attention and learn, but we have more opportunities to do things that are hands-on in PLTW."
Introduction to Engineering Design (IED) is one of 12 Project Lead the Way classes at Kickapoo High School. The innovative program emphasizes hands-on, comprehensive curriculum that helps students learn skills to get jobs in Biomedical, Computer Science and Engineering.
In August 2021, Kickapoo High School PLTW was named a Distinguished High School Program, a top honor for exemplary PLTW programs nationwide. Only 204 schools received the award out of thousands of PLTW programs nationwide.
"Project Lead the Way exemplifies a hands-on approach to learn that helps students be successful after high school, but what sets Kickapoo's program apart is our commitment to ensuring that PLTW is for all Kickapoo learners," said Jami Jansen, PLTW department chair and KHS Biomedical teacher. "In 2019-20, we applauded our first all girl robotics team. Enrollment for PLTW classes for free/reduced meal and underrepresented students has increased dramatically, because we ensure and show PLTW is a path to success for all students."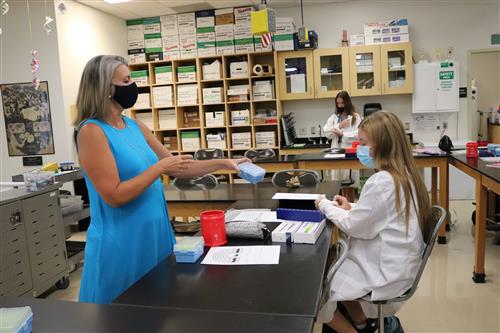 In Jansen's Medical Interventions class, students practiced using the micropipette to measure and distribute tiny quantities of fluid, a foundational skill in biomedical and health science classes and future careers. It's what Biomedical students learn every day: skills to use in healthcare jobs.
KHS Class of 2016 graduate Gerri Idos credits PLTW for helping her find a passion for medicine and a path to gaining admission to Missouri State University's competitive Physician Assistant program.
"When people ask me when I knew I wanted to go into medicine, my answer is simple: 'because I fell in love with medicine during my PLTW classes at Kickapoo,'" said Gerri. "In PLTW, I was introduced to what sickle cell anemia is, how to perform a spirometry test, and the best, functional way to set up an ED. Plus, I got to figure out what area of healthcare intrigued me the most. Without PLTW, I am certain I would not have learned what a Physician Assistant was, much less be able to intern at the hospital with a handful of them."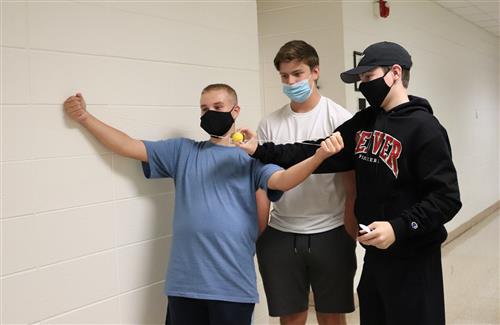 Gerri's externship experience reflects a foundational principle of PLTW: real world experience for real life success. By gaining real world skills, students are able to grow and thrive, said Dr. Katie Kensinger, coordinator of College and Career Readiness.
"PLTW students learn real-world skills and knowledge through the support of dedicated teachers and engaging curriculum," said Dr. Kensinger. "Kickapoo's award showcases these daily, outstanding efforts."
Springfield Public Schools' PLTW program offers students a variety of courses in Biomedical Sciences, Computer Science, and Engineering pathways. PLTW is part of Career and Technical Education, and PLTW programs are at all five SPS high schools and eight SPS middle schools. PLTW teachers support students through classroom learning, externship placements, and extracurricular leadership and competition opportunities. Students have the option to become members of HOSA- Future Health Professionals , TSA (Technology Student Association), or Springfield Robotics.