Return to Headlines
Club Encore kicks off third year of extended learning
At school, minutes matter. But hours of extra instruction can be life changing for students.
Springfield Public Schools' Club Encore program is one way students receive personalized support. On Sept. 9, the free, after-school tutoring program began its third year of serving students.
Designed for eligible grades 2-6 students, those who need additional time to develop skills in reading and math can complete up to 40, 90-minute sessions each semester, says Hannah Parsley, coordinator of instructional support and intervention.
"Second through fifth grade are critical years for student development and their overall academic success at school," said Parsley. "But last year, grade six was added because the district wanted to expand tutoring opportunities to even more learners."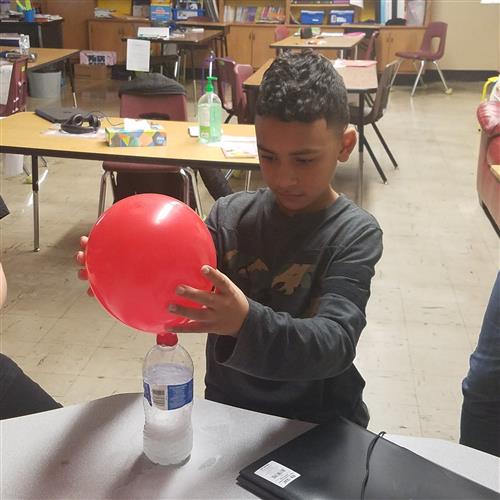 Club Encore students can receive up to 120 hours a year of tutoring and enrichment in small groups. Tutors start each session with a super snack for learners, followed by a short mini-lesson, small group instruction, independent practice and hands-on activities. Plus, tutors lead specialized clubs with an emphasis on fun. Clubs include Game Time, Outdoor ARTventures, Cooking Creations, Movie Magic and more, says Parsley.
"Club Encore gives students time with their peers to receive support in the areas that they may be struggling with during the school day while having fun," said Parsley.
Last year, 2,022 Club Encore students received nearly 81,000 hours of additional instruction to support their reading and math skills. The average Club Encore student received 40 hours of free tutoring.
More than 90 percent of Club Encore tutors are SPS educators, and they're making a difference. Students who attended more than 60 hours of free tutoring had significant statistical increases in both their math and reading scores at the end of the school year. View full report.
Plus, their attendance improved, too. The average daily attendance rate of Club Encore eligible students was much higher than those who did not receive a significant amount of tutoring.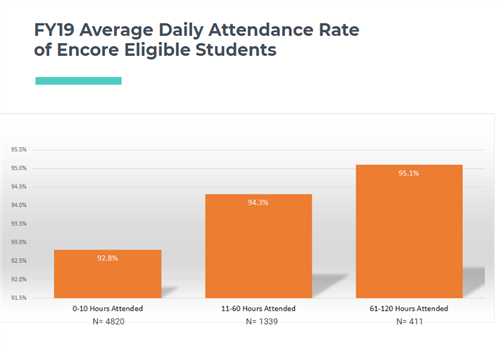 But maybe just as importantly, they also received 54,591 free after-school snacks – and nearly 70 percent of Club Encore students are free/reduced meal eligible.
"Club Encore students also get to form a relationship with a tutor who can address their individual learning needs in a smaller setting. We know those things make a difference, and it's great to see it in action."