Return to Headlines
Hillcrest hosts block party for Freshman Academy students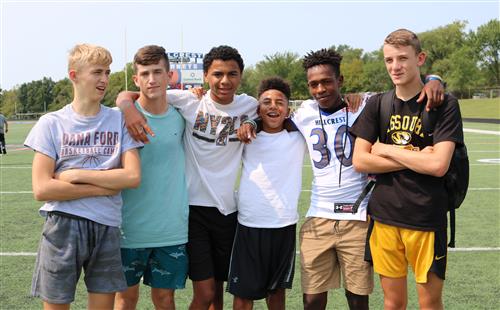 On a sunny Friday, more than 300 freshmen spent an hour in a critical learning activity at Hillcrest High School: They got to know their peers and their teachers.
For the second year, Hillcrest High School hosted a block party for members of its Freshman Academy. There were bounce games, ice cream sandwiches, music, volleyball and more. But the afternoon is just one small piece of how Hornets are plugging in and having fun at school.
The high school experience begins with a one-half credit seminar course for freshmen at Glendale and Hillcrest high schools. The Freshman Academy model helps students be successful by putting students into smaller learning communities, helping to ease the academic and social transition to high school.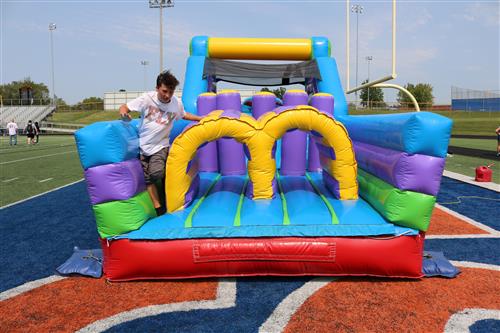 These smaller learning communities at Hillcrest are two teams made up of 150 students. Students on each team have the same small group of core subject teachers, building closer relationships with those teachers and staff, who are better able to encourage and advocate for their students' success at school.
In her fourteenth year teaching last year, HHS English teacher Crystal Champion-Kuhnel joined the Freshman Academy team and spent time making connections with her students at the school's freshman block party. At the end of the Academy's first year of intentional career and personal goal setting for students, Champion-Kuhnel saw a major impact. Her students were more engaged, academically successful and tuned into the possibilities of their own education paths, she said.
"I happily joined the Academy team last year because I had been saying for a long time we needed to do something more to help transition students into high school," said Champion-Kuhnel, who lead the silver team of 150 students. "The team lead position came open and it was everything I wanted to do as a teacher, make those individual connections and be their support system, advocate for them, to make sure they were successful and earned their credits."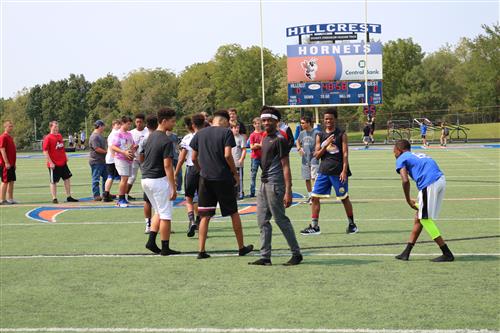 Last year, the Academy model was part of the success of Hillcrest's lowered drop out rate. The previous year, 15 freshmen dropped out of Hillcrest. In 2019-2020, only five freshmen dropped out.
But the impact of the Academy model is changing life on the Hill. For teachers like Sheridan Turner who primarily interact with sophomores and up, more students having more success as freshmen has made a difference to the entire school in just one year. Last year, the A+ coordinator enrolled less than 60 sophomores in the A+ Program. A large number of freshmen didn't meet the requirements. This year, more than 109 sophomores are eligible to join the A+ Program, she says.
"We're really starting to feel the difference the Academy model is making," said Turner. "Now, it's just getting the evidence that this model is working, that we are getting our students to the end goal of graduation and helping them become great Hillcrest citizens at the end of their high school journey with us."