Return to Headlines
Delaware Elementary construction underway with Groundbreaking Ceremony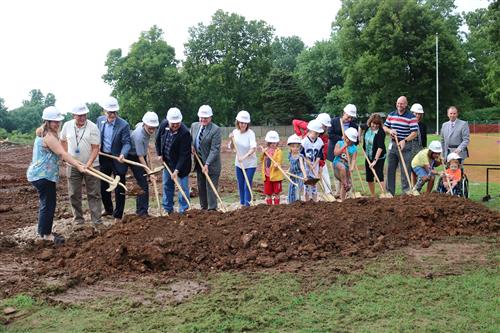 A group of current Delaware Elementary School teachers wore bright yellow T-shirts to their new school's Groundbreaking Ceremony Monday, Aug. 26. The T-shirt matched the mood and theme for the year ahead at Delaware: Building a Brighter Future.
Delaware principal Stephanie Young thanked Springfield voters for passing Proposition S in April, which approved funds for their new school's construction. The school, partially designed with Young's feedback, will be welcoming to all, she said.
"Every kind of student deserves an education full of exciting learning opportunities that will cause them to be better today than they were yesterday," said Young. "Every kind of student deserves teachers that love them, and care about them, and never give up on them. And every kind of student deserves to learn in a building that inspires them to dream big today, and then dream bigger even tomorrow."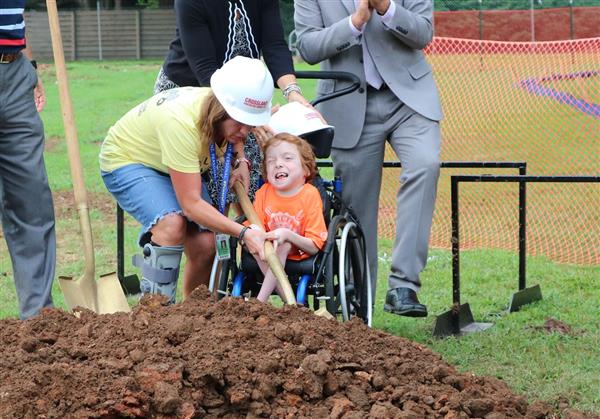 Delaware students attended the ceremony following their day at their home for the school year, the former Sherwood Elementary School on Scenic Avenue. Superintendent John Jungmann welcomed the crowd of more than 75 attendees, thanking them for supporting the past and future of the elementary school.
"The old building may have been demolished, but those of you in attendance today -- students, parents and staff -- represent the true foundation of this school," said Dr. Jungmann. "You form a unique community of individuals who value individuality and inclusiveness."
School board president Tim Rosenbury shared the history of the Springfield elementary school. Built initially in 1951 with just 12 classrooms. Pat Haas was a second-grader when the school opened, and she was in attendance at the Groundbreaking Ceremony.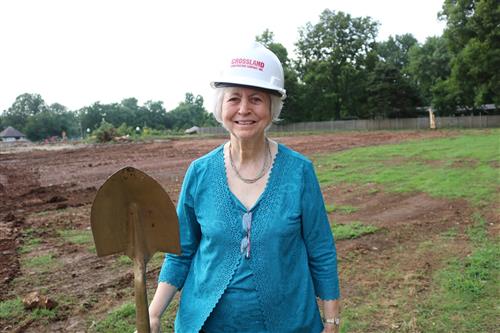 "I was given a tour of the school by Delaware's principal last December, and it was very special," said Haas. "It was the first school I attended in Springfield, and I have a lot of memories there. But I know there was a need for it to be torn down; I saw the facility myself. But I'm excited to have it be rebuilt where it was and see it have a fresh start again."
The new school's construction will cost $11.089 million, slightly less than the original construction cost estimate of $11.571 million. When completed in August 2020, the school will serve up to 350 students and will address accessibility and security challenges, as well as providing a safe room.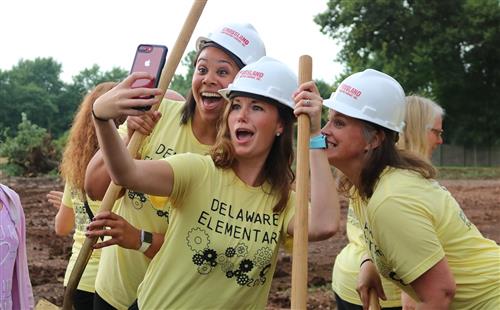 Construction will be completed in August 2020, with students attending the new school for the 2020-2021 school year.
Also recognized at the groundbreaking were distinguished professionals on the Delaware Elementary School project team:
Architects are H Design, represented by Brent Stevens, K.J. Romine, Brandon Smith and Brad Samuels; and Hollis & Miller, represented by Michael Patrick and Ashley Meadows
General Contractor is Crossland Construction, represented by Lance Garrett and Eddie Campbell.
Mechanical and Electrical Engineering is provided by CJD Engineering, represented by Ryan Jones
Civil Engineering is provided by Olsson, represented by Jared Rasmussen, Jane Earnhart and Will Hoey.
Testing and materials services are provided by Palmerton & Parrish, represented by Mike Foley.
For more information about Proposition S and its ongoing projects, visit www.sps.org/progress