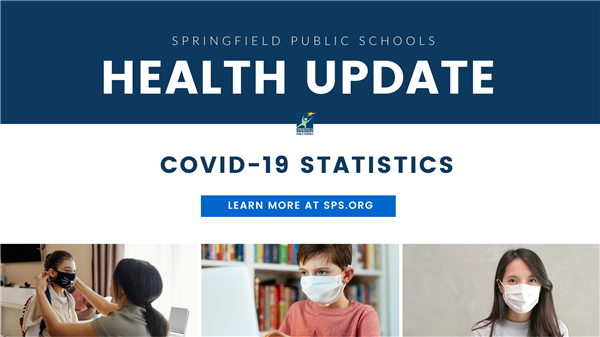 Springfield Public Schools is working in collaboration with the Springfield-Greene County Health Department and is following its guidance when positive cases of COVID-19 are reported within the district. For the latest information about COVID-19 from the Health Department, click here.

In an effort to keep our community informed during the 2020-21 school year, the number of all reported cases involving SPS students and staff will be included on the dashboard below, even if there was no risk of exposure on district property or during a district event. This dashboard will be updated every Monday and will not include personally identifiable information.

When SPS becomes aware of a positive case or the potential for an exposure, those who may have come in contact with that individual will be notified.
SPS COVID-19 New Cases by Week
All
10/04/20 - 10/10/20
10/11/20 - 10/17/20
10/18/20 - 10/24/20
10/25/20 - 10/31/20
11/1/20 - 11/7/20
11/15/20 - 11/21/20
11/22/20 - 11/28/20
11/8/20 - 11/14/20
8/23/20 - 8/29/20
8/30/20 - 9/5/20
9/06/20 - 9/12/20
9/13/20 - 9/19/20
9/20/20 - 9/26/20
9/27/20 - 10/03/20
Submit
Note: The number of new weekly cases reported on the dashboard is reflective of SPS students and staff only. Not all of the positive cases include the potential for exposure in an SPS school or during an SPS event. Public notification occurs when a potential risk for exposure has been identified in the school setting or during a school event. A public notification may result from a positive case that is not an SPS student or staff member.