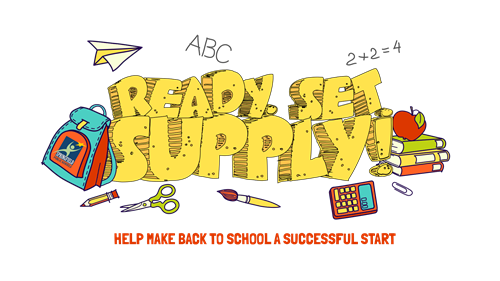 In August each year, about 25,000 Springfield Public School students show up for school ready to learn. Because many of these students don't have the resources to purchase their own supplies, teachers often use their own funds to supplement the paper, pencils, glue and other items needed.

This is the third year that the community-wide initiative called Ready. Set. Supply! will collect donations of school supplies so that SPS students and teachers can start the year off right on August 24.

"We know that there is inequity across our community. Within our school district, there are some schools where a number of students have greater needs," explained Marty Moore, former executive director of learning support and partnerships. "Ready. Set. Supply! will help ease that burden."

Several faith-based organizations contacted SPS seeking to develop a more streamlined approach to collecting school supplies. "They were among the first to step forward and offer to help," Moore said. "Working together, we developed a focused plan that would meet the specific need and support those who have the greatest need."

Initial partners include Central Assembly of God, Council of Churches, Elevate Lives, Freshwater Church, High Street, James River, Life 360, Salvation Army, Second Baptist and Victory Mission. Others have been added to the list as community interest grows.

"Churches, church groups, and other faith groups now have a well thought out plan to come alongside SPS teachers and students with a meaningful way to help with back to school," said Rev. Mark Struckhoff, executive director of Council of Churches of the Ozarks. "I'm so grateful for SPS leadership that is organizing efforts with Ready. Set. Supply!"


Between now and July 30, community members who want to help may donate the school supplies, which will be used to at the schools. Before school starts, the supplies will be delivered to the schools.

The greatest need is at schools where the majority of students qualify for free or reduced price lunch. These schools will hopefully receive supplies for every student enrolled. Other SPS schools will receive a smaller supply of supplies which they can distribute as needed.

Each item hopefully will be "kid-tested/teacher-approved" and will support the curriculum taught at each grade level. To find out more about the list for each school you would like to support, contact Lisa Searles at 417-523-0315 or lrsearles@spsmail.org.

"When donated supplies match the supply list provided by the school it ensures that they are a quality product and that they will be used," explained Jennifer Webb, principal at Twain Elementary School. "It also gives a child a sense of pride when they can come to school with the same quantity and quality of supplies that their classmates have."

To give a monetary donation in order for us to purchase school supplies that are not supplied by donations, you can go to this link: https://www.supportsps.org/pick-a-project/ready-set-supply/.
Learning Support and Partnerships